Tuesday, January 25, 2011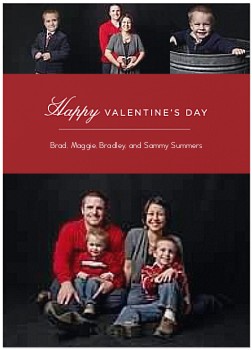 Elegant Collage Red Valentine's Day Card
Unique party invitations and announcements by Shutterfly.

Posted by

Maggie and The Boys
at 12:14 PM
No comments: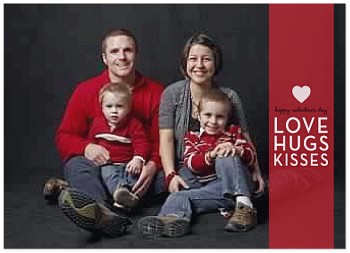 Love Hugs Kisses Valentine's Day 5x7 folded card
Unique party invitations and announcements by Shutterfly.

Posted by

Maggie and The Boys
at 11:06 AM
No comments:

Sunday, January 23, 2011
So yesterday we had our yearly Stake Women's Conference, the confrence reflected the principles taught by Sister Julie B. Beck during last spring's BYU Women's Conference regarding the essentials, the necessaries, and the nice-to-dos. I felt like a dud because I couldn't remember hearing about this talk given by Sister Beck, but I sure liked the principles taught in it. So today as the nerd that I am went back and searched for that talk. I finally found it and as I was reading something struck me just before she goes on into the principles of the the essentials, the necessaries, and the nice-to-dos. This is what she said,
"I have said lately that women are like lionesses at the gate of the home. Whatever happens in that home and family happens because she cares about it and it matters to her. She guards that gate, and things matter to that family if they matter to her. For example, if the lioness at the gate believes in the law of tithing, tithing will be paid in that family. If that family has a humble little portion of ten pesos coming in, that lioness will safeguard the one peso if tithing is important to her. If that lioness at the gate knows about renewing her baptismal covenants with God, she will be in sacrament meeting on Sunday, and she will prepare her children to be there. They will be washed, cleaned, combed, and taught about that meeting and what happens there. It isn't a casual event, but it is serious to her, and it will be serious to them. The lioness at the gate ensures that temple worship is taken care of in the family. She encourages that participation. She cares about seeking after her ancestors. If the lioness at the gate knows about and understands missions, missionaries, and the mission of the house of Israel, she will prepare future missionaries to go out from that home. It is very difficult to get a lion cub away from a lioness who doesn't believe in missions, but if the lioness believes in a mission, she will devote her life to preparing the cub to go out and serve the Lord. That's how important she is. Service happens if she cares about it.
Sisters, you are each like the lioness at the gate. This means that there has to be some prioritizing. I was taught years ago that when our priorities are out of order, we lose power. If we need power and influence to carry out our mission, then our priorities have to be straight. "
Wow!! There it is. After reading this I was very motivated to want to become a lioness at the gate of my home. I thought well how do I do this, and fortunately her talk gives us those instructions too. By prioritizing!! And doing those lists: the essentials, the necessaries, and the nice-to-dos. Lately, I have been feeling well to say the least not so motivated and after yesterday's conference and after reading Sister Beck's talk, I realized that my priorities had been out of order and that I needed to redress that part of my life. I knew this had been going on for quite a while. I was wondering what was wrong with me, am I going through prenatal depression, but down deep inside I knew what was wrong I just did not want to admit it to myself. I knew I wasn't doing the small and simple things that I needed to do. But after reading this and putting the things I learned yesterday in conference together, I learned that I just simply need to get off my behind and stop nagging myself and get to work. Today I started working on my lists and I am excited to see what will come of this list. I figured since I did not make any new year's resolutions as I usually do, this will become my new method of making resolutions.

Sister Julie B. Beck talk.

Posted by

Maggie and The Boys
at 6:29 PM
No comments:

Tuesday, January 11, 2011
Sun Salutations at its best!!
Happy Birthday Sweetheart!!


Here are 32 reasons why Brad is so loved!!


1. "Papa let's me play guns with him!! (not literally)"- Little Bradley


2. "Papa has a big truck!"-Sammy


3. Papa works hard for us to have fun.


4. "Papa put Christmas outside" aka Christmas lights- Sammy


5. Papa fixes my toys, - The boys


6. "Papa builds the best geo trax"-Sammy


7. "Papa takes me to the kid play place" aka the gym -Little Bradley


8. "Papa makes good cookies for FHE."- The Boys


9. "Papa lets me workout with him."-Bradley


10. "Papa gives Bella baths."-Mom


11. "Papa gives us chicle"-The Boys

12. "Papa takes me to 7-11 and buys me a big gulp."-Bradley

13."Papa takes care of us."-The Boys

14. "Papa goes on missions to save people."-Bradley

15. "Papa let's me play with this smart phone"-Bradley

16. "Papa bought Mama a car map (GPS device)so she does not get lost."-Bradley

17. " Papa knows how to load the dishwasher better than Mama."-Mama

18. " Papa takes me for a run."-Sammy

19. "Papa does his own laundry when Mama can't get to it."-Mama

20. "Papa married Mama."-Mama and The Boys

21. " Papa plays air hockey with me."-Bradley

22. "Papa occassionaly surprises us with Papa Murphy's Pizza and cinnamon rolls."-Mama and The Boys

23. "When Papa takes us shopping at Sam's he always buys us pizza."-The Boys

24. "Papa takes us to the Tractor store (aka Lowe's or Home Depot) to shop for tools to fix things in the house."-The Boys

25. "Papa takes turns saying prayers."-Bradley

26."Papa reads to us."-The Boys

27. "Papa takes us on vacations."-Mama and The Boys

28. "Papa chases us with the vaccum cleaner"-The Boys

29. "Papa can carry me on his shoulders."-Sammy

30. "Papa teaches me to be a good brother."-Bradley

31. "Papa scoops up Bella's poop so I don't get dirty."-Bradley

32. "Papa is the best and we love for all that he does for us!!!"-Mama and The Boys
Posted by

Maggie and The Boys
at 3:12 PM
1 comment:

So the last two month of the year just kind of piled up together for me. I felt like we did not even have a chance to breath. Usually I start preparing myself for all the Christmas traditions right after Thanksgiving, but this year everything seemed to not work for us. We tried, and really tried to get family "Christmas pictures" in by the first week of December but that did not happen, with kids and a sick husband we had to cancel our photo session. So no Christmas letter or Christmas cards went out this year. To top things off I think my computer ate all my addresses because I can't find the list of address I usually use to send out Christmas cards. I think that for the first two weeks of December we only had a strand of Christmas lights on our roof and three little Christmas trees on our porch. Getting Christmas out of the attic gets more difficult especially when one is expecting a baby. I think I set up the Christmas tree a week before Christmas. On a lighter note not bringing all the Christmas decorations outs helped make the clean up so much easier. Another calamaty we had was that our usual Santa Claus was on family leave so we did not get o see him. But we have a friend who quickly thought of us and helped us out by sharing Santa Claus with us, he even brought him to our home. Our kids were thrilled. Although it took Sammy a little while to warm up to him and finally he made his approach and was happy to meet Santa. Despite all that was not accomplished I really enjoyed Christmas this year. Knowing that my children understand the true meaning of Christmas makes all the difference in the world to me. I think of all the things we could do during that season is to teach our children the true spirit of Christmas, although with little ones it isn't so easy, but if they understand whose birthday it is and why we celebrate Jesus's birthday it is always a great start. I think that a simple message as that shouldn't confuse children or adults.
As long as we keep that message in our minds nothing else matters.
Posted by

Maggie and The Boys
at 1:15 PM
No comments: